---
Rachel Hall | Faculty Advisor
Rachel Hall is the author of Heirlooms (BkMk Press, 2016) which was selected by Marge Piercy for the G.S. Sharat Chandra Book Prize. Her stories and essays have been published in numerous journals and anthologies, including Crab Orchard Review, Gettysburg Review, New Letters, Guernica Daily, and LitHub. She teaches creative writing and literature at Geneseo where she holds two Chancellor's Award for Excellence–one for teaching and one for creative work.
---
Allison Brown | Production Advisor
Allison Brown, Production Advisor to Gandy Dancer, is the Digital Publishing Services Manager at Milne Library. She was on the staff for her college literary magazine, so she loves helping out with Gandy Dancer. Now she works on all types of open access publications and free online textbooks.
---
Sara Devoe | Managing Editor
Sara Devoe is a senior English (creative writing) major with a communication minor from Albany, New York. Sara has a strong passion for fiction writing, specifically flash fiction. Apart from writing, Sara enjoys producing music with her friends and biking, especially in the Fall. Sara hopes to work for a publishing company after she graduates, and eventually wants to live in South Korea.
---
Rebecca Williamson | Managing Editor
Rebecca Williamson is a senior English (creative writing) and communication double major. Previously, she was the fiction editor for Gandy Dancer in Fall 2019 where her love for editing grew stronger. Currently, she is also the copy editor for The Lamron, president/editor-in-chief of Her Campus at Geneseo, and a reader for The Masters Review. When Rebecca is not editing (which is rare), she loves reading, writing (preferably fiction), dancing, and spending time with friends and family. She hopes to work in the publishing industry after she graduates.
---
Kira Baran | Fiction Editor
Kira Baran is a senior English (literature) and communication (journalism & media) double major at SUNY Geneseo. She spends too much time adding songs to her eight-hours-twenty-seven-minutes-and-counting Bob Dylan playlist on Spotify, which is not—and never will be—finished. (Shoutout to her one anonymous playlist follower, of whom she is very proud…)
---
Nate Bedell is a junior English (creative writing) major with an interest in film studies. Other than writing short realistic and science fiction stories, his hobbies include reading and hiking. He wants to expand his screenwriting skills and potentially pursue a career in that industry after graduation.
---
Emma Boskovski | Poetry Reader

Emma Boskovski is a senior communication major from Long Island. Emma is incredibly interested in language and the crafting of sentences as it pertains to both professional and creative writing. At Geneseo, she serves as the news editor of The Lamron. At home, she has been reporting for The Fire Island News for four years.
---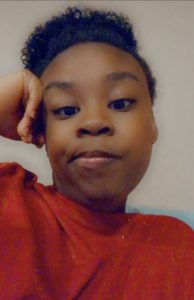 Shakira Browne | Poetry Reader
Shakira Browne is a senior English (literature) major. She is passionate about animals and writing poetry. In her spare time, she enjoys drawing her pet turtles and watching them eat the veggies off her plate so she won't have to.
---
Bridget Cain | Fiction Reader 
Bridget Cain is a senior English major at SUNY Geneseo from Syracuse,NY. They are also involved in the production of MiNT Magazine. They like to read as much as any other English major, but they also enjoy using their other senses.
---
Sarah Channels | Poetry Reader 
Sarah Channels is a senior English (literature) and communication double major. She has a strong affinity for Shakespeare, Harry Styles, and Fleetwood Mac. Sarah can often be found rereading The Perks of Being a Wallflower, teaching herself another One Direction song on the guitar, or singing with her A cappella group, Between the Lines.
---

Amina Diakite | Poetry Reader 
Amina Diakite is a Junior at SUNY Geneseo. She currently majors in English with a concentration in Creative Writing. She enjoys music, which includes musicals, loves the theater, and proudly knows every song on the Hamilton soundtrack. Amina is also a Resident Assistant in Nassau Hall, a Teaching Assistant for a First-Year Experience Seminar, the treasurer of the step team at Geneseo (GSteppa's) and the vice president of the African Student Association. With her free time, Amina loves to read and write poetry, as well as watch poetry slams and rap battles.
---
Kayleigh Eames | CNF Reader 
Kayleigh Eames is a senior at SUNY Geneseo pursuing a double major in English Literature and Communication Studies. She is from Vestal, NY and is passionate about education reform. Kayleigh enjoys traveling, reading, and painting in her spare time. She intends to earn a dual masters degree in English Adolescent Education and Special Education.
---

Marissa Fillipello | CNF Editor
Marissa Filipello is a senior Communication major from Albany, NY. She has always enjoyed writing and reading stories, and she is excited to be a part of Gandy Dancer's ninth volume!
---
Sal Galarza | CNF Reader
Sal Galarza is a senior applied mathematics major and an English minor. His interests include soccer, reading, and programming. After Geneseo, Sal plans to study data science or get a cool job at a big tech company. He is currently the president of the programming and data science club at SUNY Geneseo, and enjoys going to programming competitions. Sal has even won a few awards, including one from Google.
---
Valeria Guarneros | CNF Reader
Valeria Guarneros is a senior English (Creative Writing) major and film studies minor at SUNY Geneseo. She's deeply passionate about traveling and writing and aspires to be a screenwriter. In her spare time, she enjoys listening to Post Malone and binge-watching her favorite shows.
---
John Mattison | Fiction Reader
John Mattison is a junior English (creative writing) major. He plans on becoming an editor in the future and spends his free time writing and exploring abandoned areas.
---
Ethan Pelletier | Fiction Reader 
Ethan Pelletier is a junior from Syracuse NY. He has always loved reading and writing. Growing up he found himself re-enacting his favorite stories in the vast woods that acted as a set for his imagination to run wild. He also enjoys music and the beauty of lyricism, in particular the way it acts as a story without actually providing images.
---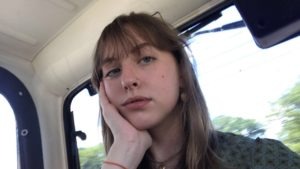 Cassandra Pepe | CNF Reader 
Cassandra Pepe is a junior English (literature) major pursuing a minor in communications at SUNY Geneseo. Usually found hovering over a sewing machine trying not to stab her fingers with needles, or absorbing pop-culture through a plethora of entertainment forms. Quite unsure of the future, or open to change, she explores endlessly the options of an English major as the future is a broad expanse for a broke 20-year-old. Perhaps you'll meet her in the streets of New York City or Italy in the future, frantically rushing to catch the public transit, but for now, that's all the time (well, space) she has here.
---
Jenelle Piatt | Fiction Reader
Jenelle Piatt is a senior English (literature) and women's/gender studies major at SUNY Geneseo. Possessing the ability to read while listening to music, JP's favorite combination is Fleetwood Mac's Rumours paired with F. Scott and Zelda Fitzgerald's work.
---
Leila Sassouni | Fiction Reader
Leila Sassouni is a junior psychology major and English minor. She plans to become a counseling psychologist. She would also like to write for a newspaper in the near future. In her spare time, she enjoys exercising and eating delicious food.
---
Nick Widman | Poetry Editor
Nick Widman is a junior English (literature) major at SUNY Geneseo. He's from Buffalo and his hobbies include watching sports and playing Dungeons and Dragons. He hopes to be an editor in the future.
---