---
Rachel Hall | Faculty Advisor
Rachel Hall is the author of Heirlooms (BkMk Press, 2016) which was selected by Marge Piercy for the G.S. Sharat Chandra Book Prize. Her stories and essays have been published in numerous journals and anthologies, including Crab Orchard Review, Gettysburg Review, New Letters, Guernica Daily, and LitHub. She teaches creative writing and literature at Geneseo where she holds two Chancellor's Award for Excellence–one for teaching and one for creative work.
---
Allison Brown | Production Advisor
Allison Brown, Production Advisor to Gandy Dancer, is the Digital Publishing Services Manager at Milne Library. She was on the staff for her college literary magazine, so she loves helping out with Gandy Dancer. Now she works on all types of open access publications and free online textbooks.
---
Maria Pawlak | Managing Editor
Maria Pawlak is a junior English Education major from Owego, New York. She is passionate about many things, from reading and writing to complicated Spotify playlists and yolk-only chocolate chip cookies. When not reading or writing, she can be found at her job as a Resident Assistant in Seneca Hall, working in the Writing Learning Center, or giving ardent speeches about the literary merits of traditionally women's fiction. 
---
Amina Diakite  | Managing Editor
Amina is a senior English Major from New York City. She is a fast-paced, always on the go student leader, who currently serves as the president of Gsteppas, Vice President of the African Student Association, a proud co-founder/ developer of the BIPOC magazine, Recess, and co-managing editor of the literary magazine Gandy Dancer at SUNY Geneseo. Amina loves summer, anything yellow, and cookie dough ice cream. 
---
Anne Baranello | Fiction Reader
Anne Baranello is a junior at SUNY Geneseo. She has always had a deep love for reading and writing—it's the easiest way for her to express herself. When not reading or squealing loudly in her dogs direction, Anne's main hobby is crocheting and she is currently working on a huge blanket to gift her mom in the spring! Anne's hopes for the next couple of years are to go to graduate school and become a librarian in a middle school. 
---
Nathaniel Bedell | Fiction Reader
Nate Bedell is a senior English (creative writing) major at SUNY Geneseo. When he isn't looking for new topics to write about, he enjoys hiking and the occasional video game. 
---
Alison DiCesare | Creative  Non-Fiction  Editor
Alison is a senior English creative writing major with a minor in film studies. At school she is a tutor for the Writing Learning Center, the secretary of Circus Club, and a dancer for Orchesis. At home she spends her time reading, writing, watching YouTube, and practicing her belief that dessert can (should) be eaten all hours of the day. 
---
Amaya DiGiovanni | Creative Non-Fiction Reader
Amaya DiGiovanni is a junior English Education major from Duanesburg, New York. She is a member of the SUNY Geneseo Blue Wave Swimming and Diving team, a Student Athlete Mentor, and the student member on NYSED's Professional Standards and Practices Board for Teaching. Amaya loves crafting, thrifting, and being outdoors. In the future, Amaya plans on pursuing her Masters of Science in Reading and Literacy.  
---
 Madisun Edmond

 

| Fiction Reader
Madisun Edmond is a senior English major. She is passionate about many things including animals and her family. When she's not spending time with her nieces, she loves to escape reality with novels and playing Animal Crossing! She hopes to pursue a career in editing and perhaps try to make it as an author one day.
---
Regina Fuller | Poetry Reader
Regina Fuller, 29, is a senior Adolescence Education Major who is a writer and future published author.
---
Julia Grunes |  Fiction  Editor
Julia Grunes is an English (creative writing) and psychology double major from Monroe, New York. She loves reading and writing, and is currently studying fiction and speculative nonfiction. Her fiction has been published in Gandy Dancer in the past. When Julia isn't writing, she can be found making music with her a cappella group, Exit 8, or her violin.
---
Matthew Keller

|  Fiction  Editor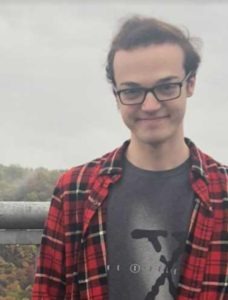 Matt Keller is a senior English major from Caledonia, New York. Besides learning about literature and creative writing, he enjoys spending time with his chinchilla, Taylor, and two guinea pigs, Peter and Phil. You can find him reading some of his favorite authors like Fitzgerald, Kafka, and the Bronte sisters during his breaks at the Geneseo Wegmans.
---
Jenna Macleod |  Creative  Non-Fiction  Reader
Jenna Macleod is a junior at SUNY Geneseo from Cornwall, New York. She is a childhood special education major with a concentration in English. In her free time she enjoys hanging out with her friends, diving, and watching movies or TV shows.
---
Jessica Marinaro |  Creative Non-Fiction Reader
Jessica Marinaro is a sophomore English Creative Writing major from Buffalo, NY. She hopes to go to graduate school for English and possibly pursue a career in academia. She currently writes for Her Campus and has had her work published in Iris Magazine. Outside of the literary realm, she is an avid fan of yoga, coffee, and chess (even though she's not very good at it). This is her first time working on a literary magazine, so she's very excited to be a part of Gandy Dancer!
---
John Mattsion | Creative Non-Fiction Reader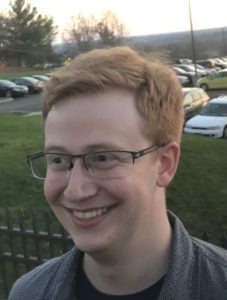 John Mattison is a senior English Creative Writing major at Geneseo. He enjoys writing and plans on going to work in editing or archiving.
---
Iliana Papadopoulos | Poetry Reader
Iliana Papadopoulos has been tethered to words earlier than she can remember. From her first rap performance about Nelson Mandela in the first grade to discovering her love for young adult fiction during the summer before high school, or exploring the vast realm of poetry through her own written works. She has over time established a foundation for how she perceives literature; aiming to interact with literature as more than words on paper, rather empathetically. With the belief that literature is alive, Iliana feels literature reflects well the complexities of how politics affect individual experiences. 
---
Walter Paskoff | Poetry Reader
Walter Paskoff is a senior English and Education major with a Spanish minor who's always looking for projects to start, Gandy Dancer being no different. Whenever he is free, he's always looking for ways to grow, whether it be through exercise, reading and putting together puzzles, or making new connections. Working on Gandy Dancer makes the perfect project, a collaborative, challenging space focused on the beauty of the English language.
---
Sparrow Potter | Poetry Reader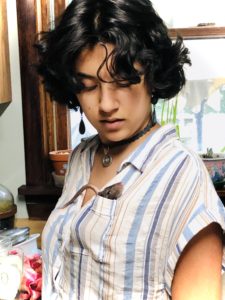 Sparrow Potter is a junior English Creative Writing major from Rochester, New York. When she isn't singing, she's probably drawing, and if she isn't doing that, she's probably playing Dungeons and Dragons. Sparrow is one of the co-musical directors of Emmelodics and is in the pledge team for the community service fraternity APO. She delights in being in the editing chair for the first (but hopefully not last) time!
---
Erika Powers | Fiction Reader
Erika Powers is a Junior English major from Long Island, New York. In her off-time, Erika loves creating art and
collecting beanie babies. With a passion for art, both visual and musical, she's excited to be diving into the world of  literary magazines!
---
Julian Silverman |  Creative  Non-Fiction  Reader
Julian Silverman is a sophomore International Relations student from Westchester, New York. Passionate about travel, art, and everything unknown, he is driven by the allure of experience and a good meal. While he has never worked on a literary journal before, he is excited to be working on Gandy Dancer this semester. Before coming to Geneseo, he took two gap years, during which he served with the AmeriCorps National Civilian Community Corps in the North Central region and lived in Boston and New York. Julian's favorite authors are Hunter S. Thompson and Khalil Gibran.
---
Thomas Skinnider |  Creative  Non-Fiction  Reader
Thomas Skinnider is majoring in Psychology and Philosophy, and minoring in English. He loves studying languages, and much of his time is spent researching psycholinguistics with the Psychology Department. He is also fond of film.
---
Taylor Tirabassi |  Fiction  Reader
Taylor is a senior English major eager to broaden her knowledge of grammar and literature through reading and editing. She can't wait to read all the amazing pieces submitted to Gandy Dancer this semester! 
---
Daphne Xulu |  Poetry  Reader
Daphne Xulu is a second year exchange student from the U.K. In her spare time, she writes poetry and has self-published a poetry book called Paper Moon. In the U.K. she studies Creative Writing and Film and Screen Studies, and is excited to delve into the world of literary journals.
---
Julia Yakowyna |  Poetry  Editor
Julia Yakowyna is currently a junior at SUNY Geneseo. She is attaining a degree in English Adolescent Education, with plans to attain a master's degree in the future. She enjoys reading and writing, as well as singing with her Acappella group, Between The Lines. Julia loves spending time with her family, friends, and her dog Toby.