---
Rachel Hall | Faculty Advisor
Rachel Hall is the author of Heirlooms (BkMk Press, 2016) which was selected by Marge Piercy for the G.S. Sharat Chandra Book Prize. Her stories and essays have been published in numerous journals and anthologies, including Crab Orchard Review, Gettysburg Review, New Letters, Guernica Daily, and LitHub. She teaches creative writing and literature at Geneseo where she holds two Chancellor's Award for Excellence–one for teaching and one for creative work.
---
Allison Brown | Production Advisor
Allison Brown, Production Advisor to Gandy Dancer, is the Digital Publishing Services Manager at Milne Library. She was on the staff for her college literary magazine, so she loves helping out with Gandy Dancer. Now she works on all types of open access publications and free online textbooks.
---
Sara Devoe | Managing Editor
Sara Devoe is a senior English (creative writing) major with a communication minor from Albany, New York. Sara has a strong passion for fiction writing, specifically flash fiction. Apart from writing, Sara enjoys producing music with her friends and biking, especially in the Fall. Sara hopes to work for a publishing company after she graduates, and eventually wants to live in South Korea.
---
Rebecca Williamson | Managing Editor
Rebecca Williamson is a senior English (creative writing) and communication double major. Previously, she was the fiction editor for Gandy Dancer in Fall 2019 where her love for editing grew stronger. Currently, she is also the copy editor for The Lamron, president/editor-in-chief of Her Campus at Geneseo, and a reader for The Masters Review. When Rebecca is not editing (which is rare), she loves reading, writing (preferably fiction), dancing, and spending time with friends and family. She hopes to work in the publishing industry after she graduates.
---
Christian Alfieri | Poetry Reader
Christian Alfieri is a junior at SUNY Geneseo pursuing a degree in English Education. He is from Stony Point, New York but loves to travel and explore new places. Christian enjoys spending time with family, friends, and his dog Duke, as well as playing baseball, fishing and being a 6 year firefighter back in Stony Point.  He plans to get his masters degree in English Adolescent Education right after Geneseo.
---
Anne Baranello is a sophomore English and Adolescent Education major, from Williston Park, Long Island. Anne loves arts and crafts, and her current favorite pastime is crocheting. She also enjoys reading, watching movies, and listening to music from all around the world. In the future, Anne plans to earn her master's degree in Library Science, and become a high school librarian!
---
Chase Boggs | Publicist, Fiction Reader 
Chase Boggs is a Junior student at SUNY Geneseo majoring in Adolescence Education with a concentration in English/Creative Writing. He was born and raised in Canandaigua, New York and attended Finger Lakes Community College for two years, graduating with his associate's degree, before transferring to Geneseo. Before college, Chase wrote for his school district's newspaper as a writer and cartoonist before leaving to concentrate on his writing as an individual. His favorite format of writing is fiction and poetry, while he enjoys reading fictional and nonfictional works. While hoping to become an English teacher, Chase hopes to one day publish some of his work in the near future. He currently splits his time between Geneseo and his hometown of Canandaigua.
---
Bridget Cain |Creative Nonfiction Reader
Bridget Cain is a senior English major at SUNY Geneseo. They are from Syracuse, NY, and plan to attend graduate school for mental health counseling; they hope to use their literature and creative writing studies as a tool to expand on different types of therapy. In their spare time, they replay Fire Emblem: Three Houses, continuing their file that already has 275 hours saved.
---
 Kathryn Capone | Fiction Reader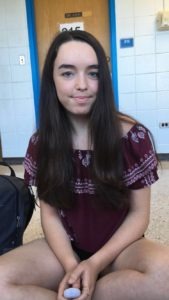 Kathryn Capone is a Junior English Literature major and communications minor at SUNY Geneseo. She is from Suffern, New York and in her free time likes to relax by reading a good book or drawing random cartoon characters.
---
Joseph Cartwright | Creative Nonfiction Editor 
Joseph Cartwright is a senior majoring in Biology and English literature with great interests in genetics, horticulture, fiction writing, and poetry. When not experimenting with rhyme schemes and haiku forms he runs a small fruit farm and hydroponic greenhouse in the summer.
---

Conor Chivers | Fiction Reader
Conor is a freshman at Geneseo, with an extensive background reading science-fiction, fantasy and creative works. A couple of his favorite authors are Kurt Vonnegut and Hunter S. Thompson, and he hope to emulate their voices in my writing because he feels their alternative style of writing is very important to the growth and expansion of the field as a whole  (and it's more fun).
---
Hailey Cullen | Poetry Reader 
Hailey Cullen is a sophomore childhood/special education major with a concentration in English and an Edgar Fellows minor. Currently, Hailey works as a Resident Assistant for International Student Engagement in Wayne Hall. She is an avid reader, who also enjoys writing poems and short stories. Hailey is passionate about educating students and hopes to publish some of her own writing in the future.
---

Marissa Fillipello | Creative Nonfiction Editor 
Marissa Filipello is a Senior Communication major concentrated in Journalism and Media at the State University of New York at Geneseo. She is passionate about the arts, including reading, writing, and painting. Furthermore, she takes great responsibility as an editor for the Gandy Dancer, and is often encouraging others to creatively express themselves. Marissa Filipello is the youngest in a family of six, and for her, family comes first.
---
Hayley Jones | Poetry Reader
Hayley Jones is a senior English Literature major from Rochester, New York. She enjoys reading and writing poetry, mindfulness, listening to punk rock and folk music, and learning about history. She is always open to exploring new ideas and is excited to be involved in the publication of this spring's edition of the Gandy Dancer.
---
Will Kilada | Fiction Reader
Will Kilada is a junior English major at SUNY Geneseo from Somers,  NY.  This is his first semester as an English major, and he is excited and passionate about reading and writing. In his free time, he enjoys playing basketball.
---
Anthony Lyon | Fiction Reader
Anthony Lyon is a Junior English major at SUNY Geneseo. They have a passion for writing, co-writing, and work often on long form fiction and hybrid genre pieces. Recently, they were a guest contributor for the Borgen Project, an informative source committed to ending global poverty. Outside of writing, Anthony enjoys movies and competitive video games.
---
Lara Mangino | Creative Nonfiction Reader 
Lara Mangino is a senior English Literature and Political Science major. Along with working on Gandy Dancer for the second time, she is the proud Editor of Geneseo's MiNT Magazine and is excited to continue to work to bring the two publications together. In her free time, she wonders why she doesn't have more of it.
---
Jenna Murray | Poetry Editor 
Jenna Murray is an English (creative writing) and Communication double major from Rochester, New York. Jenna focuses on poetry and creative nonfiction, and was previously published in Gandy Dancer 9.1. She loves traveling, old music, crystals, and her cat Suki. When Jenna is not writing, she can be found making homemade dumplings, researching niche topics, or making ceramics with her friends.
---
Maria Pawlak | Fiction Editor 
Maria Pawlak is a sophomore English Education major from Owego, New York. She is passionate about many things, from reading and writing to complicated Spotify playlists and yolk-only chocolate chip cookies. When not reading or writing, she can be found at her job as a Resident Assistant in Seneca Hall, or giving ardent speeches about the literary merits of romance books and other "guilty pleasures" to unfortunate passersby.
---
Rebecca Perrotta | Creative Nonfiction Reader
Rebecca Perrotta is a freshman at SUNY Geneseo. She is majoring in English and previously worked on her high school's newspaper as a writer, with two years of experience.
---
Sarah Sharples | Poetry Reader
Sarah Sharples is a freshman English major and women and gender studies minor. Sarah is also a member of the Edgar Fellows Program and writer for The Lamron. Outside of reading and writing poetry, Sarah enjoys going on walks and spending an inappropriate amount of time working on Spotify playlists.
---
Jess Vance | Creative Nonfiction Reader
Jess Vance is a senior English (literature) major originally from Williamsport, PA. She received a B.S. in Dietetics from Indiana University of Pennsylvania in 2010 but, after working professionally as a nutritionist and health educator for almost a decade, has decided to shift career paths and embrace a lifelong love of literature.
---
Bianca Volpe | Creative Nonfiction Reader
Bianca Volpe is a junior Childhood/Special Education major with a concentration in English from Long Island, New York. Bianca has always enjoyed writing and more specifically creative writing. She also enjoys dancing and listening to music in her free time.
---
Cassandra Walters | Poetry Reader
Cassandra Walters is a sophomore English (literature) major from the Rochester area. Cassandra has a deep passion for anything creative, particularly art, and writing poetry and fiction. Other than that, she enjoys broadening her perspective in any way possible and is quick to jump on a learning opportunity.
---