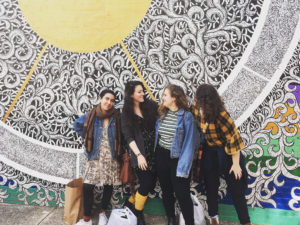 Posted by Meghan Fellows, Managing Editor for issue 6.1
On the way to the 2017 FUSE (Forum for Undergraduate Student Editors) www.fuse-national.com conference this past weekend, myself, and the other passengers in my car were antsy. The conference was based in Pennsylvania, and we had a lot of road left. We were all excited; we would be representing Geneseo in a space where student writers and editors from all over the country were coming together for a weekend of workshops, and literary bonding. The theme for the conference was Resistance, and the keynote speaker was Martin Espada. From the backseat, the DJ of the hour was switching songs, and talking about the Espada.
"My mom really loves his poetry. We get to have a workshop with him, AND hear him read the first night of the conference. I think it'll be great," Isabel Owen said, her phone lighting up as she changed the song. Isabel was attending as a member of the Geneseo FUSE chapter, and editor of Guerilla poetry on campus.
We arrived at Cabrini University in Radnor, Pennsylvania around 5 o'clock. After some mingling, and way too many brownies, about sixty of us were shuffled into an auditorium space, with a microphone and a lectern off to the right. There was a man standing close to it, holding two bottles of water, with a large white beard and glasses. He seemed stern, yet focused.  He stood very still, listening to the introductions and chatter between students and faculty.
"I am pleased to introduce, Martin Espada"
The man stepped up to the lectern, and positioned himself near the microphone. He spoke, and his deep voice rang through the room, bouncing off of the walls, and resonating with everyone; the room went silent.
Martin Espada grew up in Brooklyn. His father, Frank Espada, was a civil rights activist, documentary photographer, and major part of The City-Wide Puerto Rican Development Program in impoverished and vulnerable areas in the borough of Brooklyn. Martin Espada's poetry is highly influenced by the political aspects of his childhood, and the activism that he is still a part of to this day. Growing up in a Puerto Rican neighborhood in Brooklyn, Espada was h involved in Puerto Rican culture; the culture of his ancestors. Espada has worked as a tenant lawyer, working with immigrants in the Latino community, including moving to Boston to continue his work.
"I have the body of a lawyer, and the head of a poet." He stated, after reading us a poem about his legal work.
Many of Espada's poems were focused on the current political climate. He despaired the ongoing struggles of people of color, the Trump presidency, and he encouraged us to take  charge in the resistance.
"Poets play a large part in the resistance. They play a part in documentation of current events, which then leads to playing a part in history," he said.
Espada spoke of the lack of empathy from the Trump administration regarding Puerto Rico. His poems on the subject made the tragedy on the island vivid.
One of my favorite moments in the reading occurred when Espada allowed us to hear two poems about his late father that he had never read out loud to a large group before. His father passed away in 2014, leaving behind a legacy of activism, and artistic work that will continue to be relevant for many years to come. When Espada read about his late father, I couldn't hold the emotion in. I was so moved, so stirred by his transparency about the loss of his father, that I started crying in my seat. There was this mutual give and take of emotion within the room; everyone's eyes were misty, and Espada's voice shook with loss. I've never been moved to tears by a reading before, and I can honestly say it was a beautiful moment in my life.
Espada inspired the theme of the conference in the most organic way possible. Throughout the rest of the weekend, many workshops and panels referenced Espada's reading, and people could not stop talking about how powerful he is as a speaker, and as a person.
Here is a list of his book. Sit with them, absorb his words, be inspired.
The Immigrant Iceboy's Bolero
Vivas to Those Who Have Failed: Poems
The Trouble Ball: Poems
The Republic of Poetry
Imagine the Angels of Bread
Alabanza: New and Selected Poems
www.martinespada.net here are some other resources to discover more about Martin Espada. Happy reading, and please check out the FUSE National page to see upcoming events, and ways to get yourself to the next conference in 2018!