Posted by Katherine Jerabeck , GD Fiction Reader for 5.2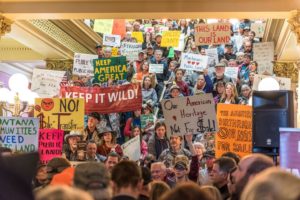 The Donald has now been in office for nearly two months, and it seems as though each day brings a new jarring piece of news. Nearly sixty+ days of anticipation, disappointment, and anger with each new "policy" installation, cabinet appointment, and petition put forth to sign. Here are ten links to good reads—not more bad news, but ways to adapt and fight back in this new era.
1. "A Yale history professor's 20 point guide to Defending Democracy Under a Trump Presidency" by Timothy Snyder
2. "On Optimism and Despair" by Zadie Smith
Zadie Smith, winner of the 2016 Welt Literature Prize writes on "Optimism and Despair" and the conflicting feelings we all face: the joy in personal achievements—particularly the arts—in the midst of an increasingly changing world.
3."Making Art in a Time of Rage" by Alex Ross. Alex Ross discusses art, and the growing need for its existence to make people question and think further, whether by directly addressing the issues of our time, or providing an escape from the rise of a volatile political climate.
4. "Power Dressing Gets a New Look" by Vanessa Friedman
Paris Fashion Week reflected the upsurge in the women's movement in a way fashion has never seen before. Designers rejected traditional styles depicting women as sex symbols and instead prepared women for the battle of the next four years in styles resembling armor in terms of aesthetic and rougher textures.
Model wearing Chanel; photo from Vogue
5. The Tina Fey Interview, by David Letterman
David Letterman interviews Tina Fey after she won the Sherry Lansing Leadership Award and they discuss how the internet has removed a vital aspect of civilization: civility and offer movie recommendations to help see what's happening in a different light.
6. "Pictures of Women by Women Celebrate a Shared Sisterhood" by Jessie Wender
This National Geographic article shares seven female photographers' stories in which their gender has helped them to encapsulate a culture, person, or story in a way that they could not have otherwise.
International Women's Day 1977
7. Trying (and failing) Not to Fear So Much About Trump by Adam Gopnik
Gopnik writes about the struggles of living in fear of the actions of our nation's president.
8. "How to Defeat Those Who are Waging War on Science" by Jonathan Foley and Christine Arena
Foley and Arena outline the interconnectedness of science and politics and assert that an inclusive nature is the only way to garner support for science.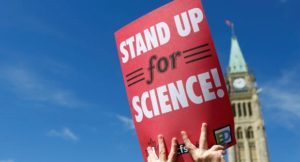 9. "Look Outward, Artist: What Photography Can Learn from Danny Lyon in the Age of Trump" by Jerry Saltz
Saltz focuses on Danny Lyon, a photographer of the civil rights movement of the '60s whose work has become far less mainstream recently, as he examines how Trump's ascent to power has been photographed.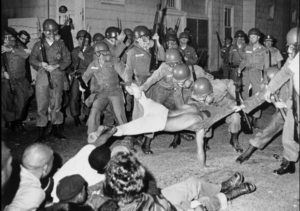 "Clifford Vaughs, another photographer for the student Nonviolent Coordinating Committee being arrested by the National Guard. Cambridge, Md. 1964."
Photo from NY Times by Danny Lyon
10. "How Opponents Sank a GOP Bill to Sell Off Federal Land – And What They Learned" by Chris D'Angelo
To leave you on a positive note, this article describes a movement against a bill to sell 3.3 million acres of public land. Citizens and advocacy groups used tactics like calling representatives and petitions, which led Chaffetz, a Representative of Utah, to remove the bill.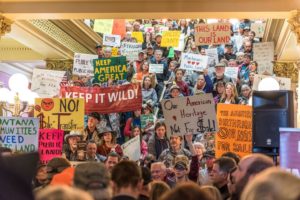 How can we live in this new era? As many of the articles stress: stay informed. Resources like TheSkimm send you an email every morning with the news in language that is easy for those who don't have a degree in political science to understand.  However, I have learned that limiting news time is helpful as well. We are constantly inundated with news—set yourself a timeframe for each day and stick to that limit. It will be there tomorrow, I promise. Finally, pick a cause or two you're especially passionate about and fight for those. As an education major, the election of the Secretary of Education was something I tried to keep up with and call senators about because I am well informed on it. That doesn't mean all other causes aren't important, but I find that helpful for me when I am overwhelmed.