Navigating the world as a literary citizen; the importance of a travel journal.
by Daphne Xulu
Long before I became familiar with the term travel writing, I was captivated by stories of adventure and exploration; how a distant land, thousands of miles away, could com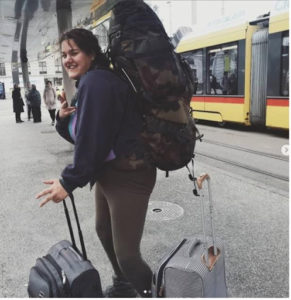 e to life on a page. The word travel tickles my senses, and my already inquisitive mind wonders further to dreams of countries, cultures, and cuisine. The first book which brought my attention to the world of travel literature was Jack Kerouac's On The Road. I was hooked. Who was this author who had traveled across America? Why did this piece of creative non-fiction unlock a burning desire for adventure? How did a country that I had yet to visit, seem so close to home?
When I was seventeen, I felt downtrodden like most teenagers do, and I left the UK in pursuit of a solo adventure to Nepal. I had spent months preparing and packing all the important things: sun cream, hiking trainers, documents, and handy bottles of mosquito repellent. Yet, I would've never guessed at the time, that the most important possession I could ever have brought with me was tucked away in the front pocket of my backpack –a cheap notebook. Every day for eight weeks I sprawled my adventures across the page, documenting the highs and the lows, friendships, and failures, fleeting moments and memories. I wanted to remember everything and in doing so I created a time portal, a story that authentically summarised two months in my seventeen-year-old life, a story of discovery and exploration.
From then on, my travel journal came everywhere with me; I wrote every day for the two weeks that I traveled across five cities and three countries with my best friend at eighteen, and again when I was twenty and in Normandy. Currently, I am an exchange student completing sixteen weeks in the USA. I'm nine weeks in and two whole notebooks down, with no signs of stopping. Why? The answer is clear; the most important thing you could ever write is the truth. My journals are filled with not only the discovery of life overseas but of newfound cultures and people and of friends from across the globe. They are filled with tantalizing self-discovery, sadness, joy, excitement, regret, and promises.
To be a literary citizen, in my opinion, doesn't just mean to be well-read and versed in different genres of literature, it also means to be aware of the world we live in. A travel journal is a bridge between literary and global citizenship, and when the worlds of writing and travel combine, magic unfolds. We are alive, we are free, and we are only here for a short amount of time; what better homage to the world and to writing than to go out and explore, leaving our thoughts and feelings sprawled across a cheap journal in illegible handwriting, for when we return home all we must do is open page and watch as our adventures come to life all over again.
Bath Spa University Exchange Opportunities 
Film, Photography and Community Volunteering in Nepal