Posted by Nicole Sheldon, Creative Nonfiction Editor and Art Curator for Issue 4.2
With the spring semester in full swing the SUNY Geneseo campus is bustling with students who are finding that each day is busier than the last. It's more than a week into February, and here at Geneseo Assistant Professor of English Lytton Smith, Editing and Production Manager Allison Brown, and I have launched National Book Review Month, or NaRMo, for the month of February.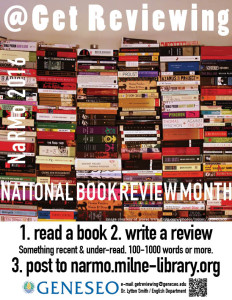 The literary world celebrates events such as National Poetry Month and National Novel Writing Month, and we've set out to add National Book Review Month to the literary calendar. Book reviews are an often-overlooked part of the literary landscape, and many readers fail to recognize the value in reading and writing reviews. Reading a book review may give you that extra nudge to read that book you meant to indulge in over the summer. Or, perhaps reading a book review would have prevented you from abandoning the novel that wasn't what you initially expected.
That's the beauty of book reviews—they're a way for readers to express their opinions about what they've read, and share their views with the rest of the literary world. Word of mouth is great when recommending a book—but publishing reviews online for readers all over the world to see is bound to have a greater impact.
February is a hectic time for students everywhere, which means most students are finding it increasingly difficult to find time to read a book for pleasure. However, students are reading for classes, so why not write a book review on something that you're required to read? Writing a review may help gain a deeper knowledge of the book as you explore the parts you enjoyed and the parts that troubled you. ­
Dr. Lytton Smith explained, "Sometimes I read a book of poetry and fall in love with it, and want to shout about it from the rooftops (well, the internet). And the process of writing a review can help me explain, to myself as well as to others, exactly why the book matters enough for me to try to get others to spend time reading." He added, "One of the earlier reviews I wrote, for Shanxing Wang's Mad Science in Imperial City, pushed me to justify why this largely unlineated book felt like poetry."
Join in the fun at http://narmo.milne-library.org/. Check out the reviews, such as senior Evan Goldstein's review on Christina Davis' An Ethic and Meghan Barrett's review on Heather Grothaus's Taming the Beast that are posted for inspiration and submit! Reviews can examine a variety of genres including nonfiction, poetry, fiction, drama, children's books and literary journals and can be 100 to 1,000 words in length.
There are only twenty days left in February, so be sure to spread the word and get reading and get reviewing! And don't forget to like NaRMo on Facebook here and follow us on Twitter at @getreviewing.